Key FEATURES
All the Straps

Adjustable outer straps give you that extra room for towels, jackets, yoga mats, or beach blankets - everything that is too bulky to go inside.

Our shoulder strap is adjustable to your body size and makes carrying heavy bags easier.

YKK Zippers

Our zippers are top of the line YKK. They are heavy duty, zip easily, and aren't metal so they won't heat up to a million degrees when left in the sun!

They're even used on our hidden valuables and passport pockets.

Deep Side Pockets

Ideal for keeping your wet from your dry, this area is great for large water bottles, multiple cans of pop, or wet bathing suits. With a double zipper feature, access is a breeze.

All our liners are waterproof to keep even exploding sunscreen under control.
What She Said
Seriously, this is my dream beach bag!!!

Eva, Canada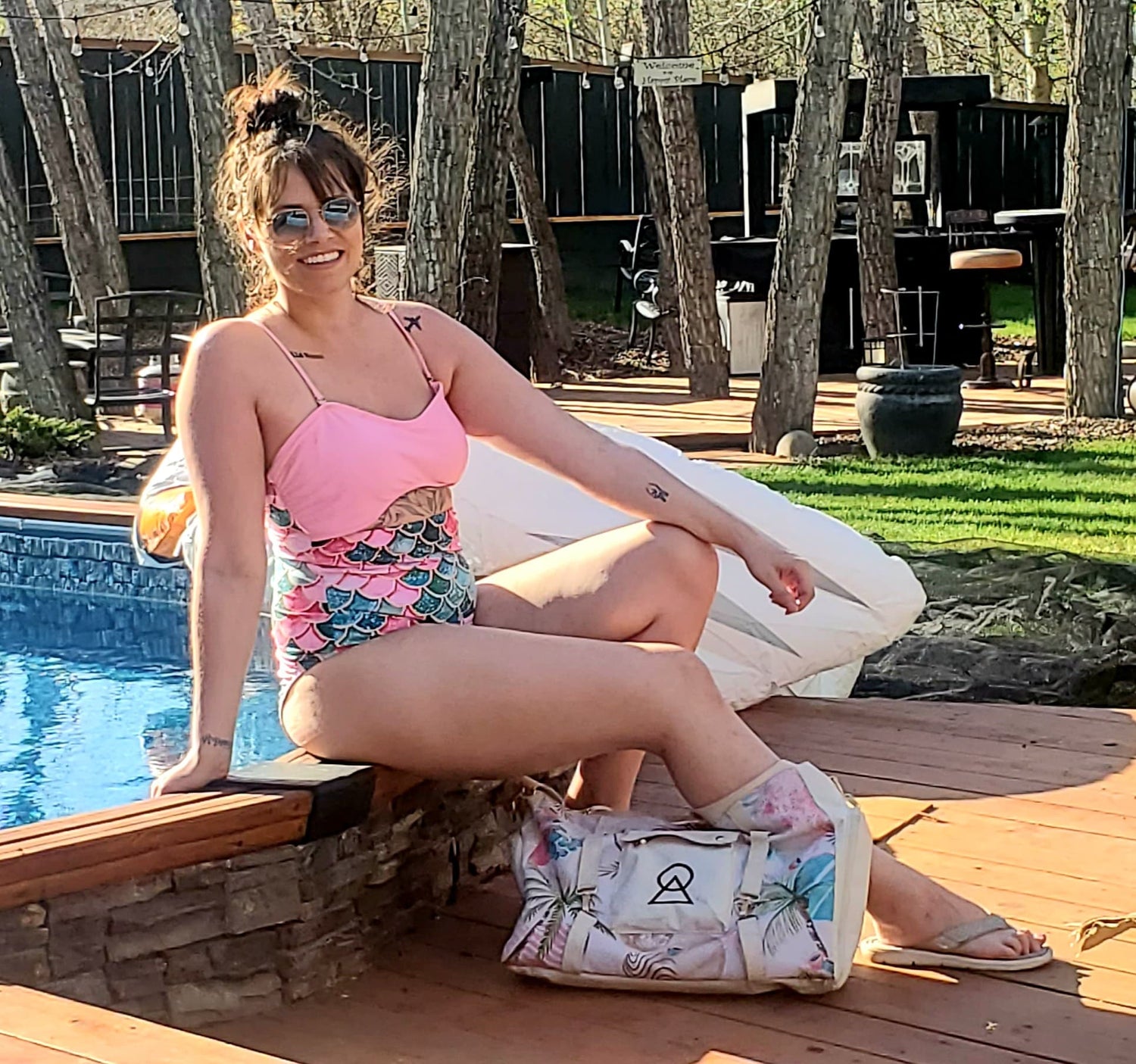 What if I told you...
that by spoiling yourself, you were helping to change people's lives?

My name is Carlie Rioux and I'm the founder of Thea Caye. An avid traveler and serial entreprenuer, I started this company after I was sexually attacked by 4 men on separate occasions. (Click here to read more about that)

Why does this company exist? Well, what I knew was: Exploiting human beings sucks and conventional beach bags suck.

That was a lot of suck I could fix by creating a bag that can handle the diversity of my life as easily as I do.

I took on the challenge of creating change at every level of my supply chain. By sporting one of our products (or 3, hehe) you are directly influencing the improvement of other people's lives as well as your own!
What She Said
My husband bought me a Thea Caye bag as an anniversary gift and I am beyond thrilled. I am fairly small so finding a bag that sits on my body properly and is comfortable is difficult, but this bag fits me like a glove and is so comfortable to wear around. It is so roomy that when I take my daughter swimming I have room for all of our things and there is no need for me to carry around a second bag.

Jayne, Canada
Creating IMPACT
Creating Safe Work for Survivors

Our products are handmade by survivors of exploitation and marginalization. Through our partner manufacturer, they are paid a good wage and are provided with life training, further education, and scholarships for the survivor's children.

Work hours created for survivors: 2,600

Removing Plastic from Our Oceans

We are Vera Certified meaning we are create jobs in poverty stricken areas by hiring people to remove plastics out of our waterways and oceans. This provides wages to families that desperately need them while take care of Mother Earth.

Number of bottles removed so far: 21,041

Support for Victims of Human Trafficking

We support the drop in center Shaki Samuha in Kathmandu, Nepal, helping to keep their doors open and programs running for current victims of human trafficking. Through their work on the ground, women and girls are moving towards freedom.

Number of weeks supported: 88